ARCSS Program |
October 2005 eTown Meeting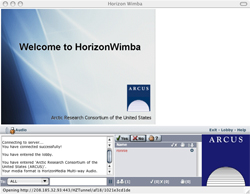 Date: Friday, 7 October 2005
Time: 10:00 a.m. ADT (11:00 a.m. PDT, 12:00 p.m. MDT, 1:00 p.m. CST, 2:00 p.m. EDT).
Duration: Approximately 1.5 hours
ARCSS Synthesis: A Community Forum to Discuss Future Modes for Synthesis

The ARCSS Committee invited members of the research community to participate in the ARCSS Synthesis eTown Meeting.
This eTown Meeting focused on the results of the recent NSF Announcement of Opportunity and near-term planning for system-wide research and synthesis.



October eTown Presentation (1.1 MB - PPT)

Synthesis eTown Meeting Archive:
Click here to access the Horizon Wimba archive for the October eTown Meeting session.

Access archived slides and audio of the October eTown Meeting in three easy steps:
Click on the HorizonWimba archive link above.
HorizonWimba will prompt you to log in. For RoomID, enter "ARCUS_Live" (case sensitive); for Name, simply enter your name (first and last)
The archive should start automatically after a moment; if it does not, click on "Class Start."
Note: Please be sure to have pop-ups enabled on your Internet browser.
Background Information

Send your comments: An online comment form is available here to submit feedback, questions, or specific issues you feel are important. This feedback form is available will continue to be available and after the online meeting so that anyone may participate in the process regardless of participation in the eTown Meeting.
About eTown Meetings
The eTown Meeting platform, HorizonWimba, enables live audio web-conferencing, online presentations, internet touring, application sharing, polling, and private and public text chat. To participate in the web portion of the conference, you will need access to an internet connection in addition to your phone line; you may also participate in the seminar via phone only.
For more information, contact Helen Wiggins.