eTown Meeting for Arctic System Synthesis Workshop:
New Perspectives through Data Discovery and Modeling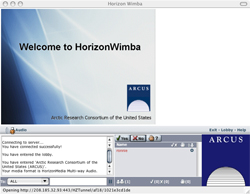 Date: Monday, 26 March 2007
Time: 10:00 a.m. ADT (11:00 a.m. PDT, 12:00 p.m. MDT, 1:00 p.m. CDT, 2:00 p.m. EDT).
Duration: Approximately 1.5 hours
ARCSS eTown Meeting
Pre-Workshop Community Input:
"ARCSS Synthesis Workshop: New Perspectives through Data Discovery and Modeling"

The Organizing Committee of the upcoming "ARCSS Synthesis Workshop: New Perspectives through Data Discovery and Modeling," to be held 2–4 April 2007 in Seattle, Washington, invited members of the research community to participate in an open eTown Meeting to discuss priorities and strategies for ARCSS data management for promoting arctic system-level understanding and synthesis.
This eTown Meeting—one of several activities planned to ensure a broad set of perspectives in workshop discussions and in the subsequent community-reviewed workshop report— focused on the central discussion points to be considered during the April workshop:
What are the data and modeling needs to advance synthesis-focused arctic system science?
What's currently working and what is needed in terms of applying data and modeling for analysis to advance science? What are the keys to success?
What are the practical steps forward as far as mechanisms, approaches, tools and procedures, organization, standards, and related issues?

Data/Modeling eTown Meeting (PPT 2.8MB)

eTown Meeting Archive:
Access the complete archive (including slides and audio) of the eTown Meeting in three easy steps:
1. Click on the HorizonWimba archive link here.
2. HorizonWimba will prompt you to log in. For Room ID, enter "ARCUS_Live" (case sensitive); for Name, simply enter your name (first and last).
3. The archive should start automatically after a moment; if it does not, click on "Class Start."

eTown Meeting Audio Archive:
Download the audio-only .mp3 file of the eTown Meeting by clicking on the icon below:

eTown Meeting Audio Archive (MP3 - 16.3 MB)
About the eTown Meeting Platform:
The eTown Meeting platform, HorizonWimba, enables live audio web-conferencing, online presentations, polling, and private and public text chat. To participate in the web portion of eTown Meetings, you will need access to an internet connection in addition to your phone line; you may also participate in eTown Meetings via phone only.
Internet-platform login and teleconference call-in instructions were sent to all registered participants in advance. The eTown Meetings are archived and available for viewing after the actual online session.
For more information, contact info@arcus.org.
AGU Town Hall Meeting on Arctic Data Needs (December 2006)
ARCSS Committee Discussions on ARCSS Data Management Needs: ARCSS Note #8 (November 2006)
ARCSS eTown Meeting on Data and Modeling Strategies for Arctic System Synthesis (March 2006)
Arctic System Synthesis Workshop: New Perspectives through Data Discovery and Modeling
Date: 2–4 April 2007 (Monday - Wednesday)
Location: Bell Harbor International Conference Center
Seattle, WA