ARCSS Program |
Brochure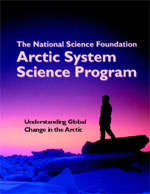 Understanding Global Change in the Arctic was published by the Arctic Research Consortium of the United States (ARCUS) for the National Science Foundation Arctic System Science (ARCSS) Program.
At the request of Michael Ledbetter, the ARCSS Program Director, ARCUS developed this brochure to introduce a broad general audience to the accomplishments and future objectives of the ARCSS Program. We hope that you will find the brochure an informative and useful aid in your outreach efforts on behalf of the arctic research community.
The members of the ARCSS Committee and the ARCSS Program Science Steering Committees helped guide the brochure's development. The editors thank all who contributed their ideas and expertise to make the document clear and engaging, from those who reviewed the first draft to those who contributed photos and illustrations.
Additional copies of Understanding Global Change in the Arctic are available on request from ARCUS (phone 907-474-1600; fax 907-474-1604; subscriptions@arcus.org) or you may download an electronic copy.
Sincerely,
Susan E. Fox
Executive Director
ARCUS
3535 College Road, Suite 101
Fairbanks, AK 99709
USA
907/474-1600
907/474-1604 fax
subscriptions@arcus.org