2002 ARCSS All-Hands Workshop |
Workshop Proceedings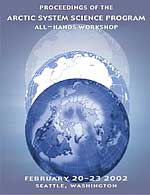 Download Proceedings (2.6 MB)

Proceedings of the Arctic System Science Program All-Hands Workshop 2002
In 2003 ARCUS published the Proceedings of the Arctic System Science Program All-Hands Workshop 2002.The proceedings volume contains summaries of the recommendations from the workshop, abstracts from invited presentations, poster abstracts, as well as the workshop agenda and participant list.
The ARCSS All-Hands Workshop, held in February 2002, brought together approximately 300 researchers , 75 of whom were students, representing a wide array of natural, social, and physical sciences to discuss the current state of knowledge about the arctic system and to look toward the future of arctic system research. The workshop provided an excellent forum for sharing research, exchanging ideas, and interacting with researchers from disparate disciplines.
You may obtain printed copies of the Proceedings of the Arctic System Science All-Hands Workshop 2002 by contacting the ARCUS office at 907/474-1600 or info@arcus.org.
| | |
| --- | --- |
| Table of Contents | iii |
| Preface | iii |
| Executive Summary | 1 |
| Introduction | 7 |
| Summaries of Recommendations from Workshop: | |
| Pan-Arctic Community-wide Hydrological Analysis and Monitoring Program (Arctic-CHAMP) | 9 |
| Modes of Variability | 13 |
| Land-Shelf Initiative (LSI) | 17 |
| Pan-Arctic Cycles, Transitions, and Sustainability (PACTS) | 19 |
| Summary of Student Recommendations | 23 |
| Contributions from Current ARCSS Research: | |
| Paleoenvironmental Arctic Sciences (PARCS) | 25 |
| Human Dimensions of the Arctic System (HARC) | 27 |
| Invited Presentation Abstracts | 31 |
| Poster abstracts | 47 |
| Workshop Agenda | 233 |
| Workshop Participants | 241 |
| Author Index | 267 |